When natural disasters such as floods, hurricanes, tornadoes, etc. hit communities, they can destroy thousands of properties, causing millions of dollars in damage in just a day or two. Water damaged homes and commercial buildings will experience weakened and permanently damaged building structures, drenched personal content, and destroyed machinery.
For large buildings with rubber sports flooring, depending on the type of rubber, these floors will quickly absorb the water and buckle if left to sit. Field houses, athletic arenas, school gyms, and other centers can experience damage from just a small amount of water, including leaky roofs, malfunctioning sprinklers, and broken pipes. But natural flooding brings with it an extreme level of damage, one that will require significant repairs or replacement.
When water is allowed to sit on a sports floor, the material absorbs it, resulting in warping and rotting. This can destroy synthetic adhesives and result in mold growth. But if the water is removed in time and the affected floors are dried, the floor can still be saved. Depending on the level of damage and how fast flood cleanup can take place, a rubber floor can be refinished, eliminating the need for expensive floor replacement.
What to Do When Rubber Sports Floors are Flooded?
While Austin water damage on a gym floor is certainly destructive, there are certainly actions property owners and school administrators can take to save it. Here's how they can get the facility back up.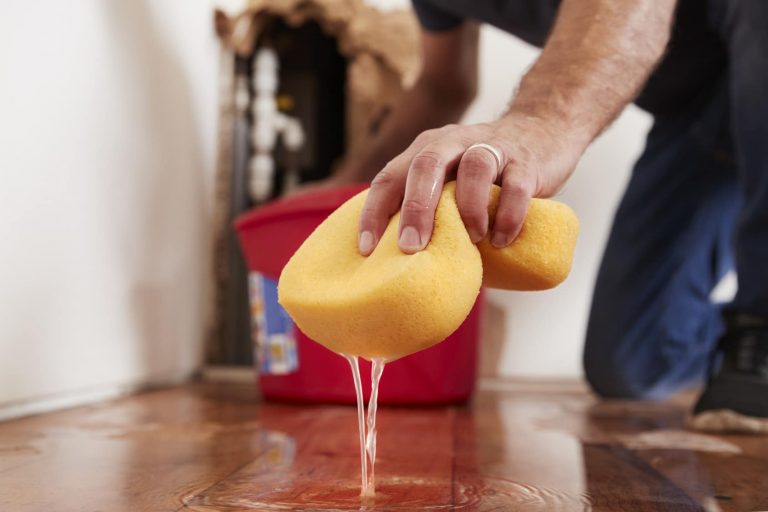 While natural flooding is most severe, manmade Austin water damage can also result in serious damage
Water Damage Prevention
The best line of defense against Austin water damage is prevention; there are a number of steps you can take to prevent floods and severe Austin water damage from destroying the sports floors.
Maintain your sports facility: A well-secured and maintained building that houses your sports flooring, such as a hydraulic track, is one of the best defenses against water damage, and sometimes natural disasters. Having the pipes, roofing system, foundation, and walls inspected and repaired on a frequent basis should protect well against future storms while keeping plumbing leaks to a minimum.
Find the location of each water valve: While natural flooding is most severe, manmade water damage, including leaky faucets, malfunctioning sprinklers, burst pipes, and damaged water heaters can also result in severe damage. It's often that the issue is found long after it starts, but you can prevent these problems altogether by turning off each valve to prevent the water from flowing onto the floor.
Have a restoration company to call: Time is always the key factor when it comes to limiting the damage from water and other contaminants. If you have an emergency list of contacts that includes a Austin water damage restoration company, reliable sports flooring expert, and your insurance provider, you can eliminate the time of searching for them when the damage occurs.
Document the condition of your property: Keep a detailed inventory of all furnishings and equipment within the sports facility; take pictures and videos of the equipment each year. Also take pictures after the disaster so you can have before and after shots to help prove your case to your insurance company.
Have appropriate insurance coverage: Review your entire policy to see what is covered and the amount you are allowed should a natural disaster occur. Flood insurance may be required depending on your level of investment in the sports flooring. Also be sure to update the replacement values with your insurance agent every six months.
Don't forget to secure all storm doors and windows during a storm to prevent or limit the flow of water into the building.
Sports flooring professional company can determine the damage extent through moisture testing
Call for Flood Damage Restoration
Extracting the floodwater should be considered the top priority in the event that your rubber sports floor is flooded. Repairs or replacement will then be necessary, depending on the level of damage.
1. Remove the water and decontaminate the building
Turn off the main water valve
If there is only a small amount of water on the floor, use a wet vacuum to remove it. But don't stop only after removing visible water; it's possible that it may have leaked through the cracks and reached the subflooring.
If the floor is submerged in standing water, don't hesitate to contact a flood damage restoration company. These professionals are well-equipped and trained to efficiently extract large amounts of water and disinfect the floor safely and properly.
2. Assess the damage
Call a sports flooring professional company to determine the extent of the damage through moisture testing as well as the best plan of action. Never try to salvage the floor according to the recommendation of a restoration professional as they are not experienced in the maintenance and care of sports flooring.
3. Remove all porous materials damaged by the water
Water contains a number of microbes and sentiments, even worse in the case of flooding. Any porous materials that have absorbed the water should be replaced. Permanently damaged sections of the flooring and subfloor, including the base up to one foot above the water line, should also be removed if recommended by the flooring contractor.
4. Floor Drying
Use fans and dehumidifiers to dry the floors efficiently and effectively after a spill.
Call in a restoration professional to have the floors professionally dried after a storm or flood. The flooring expert will make the best recommendations for the best drying methods. But if not applicable, large fans will be able to dry concrete floors after the floors are removed.
5. Floor Repairs and Replacements
Rebuilding the floors too quickly after damage can cause a number of problems, including mold growth, deterioration of the wood, and insect infestations, so it's best to wait until the base is fully dried. This may take up to a few weeks, but all of the humidity and moisture must be removed to allow the new floor to be installed safely. Average moisture levels for maple flooring is about 8 percent. Any level above 12 must be replaced as too much moisture causes the wood to buckle, leading to mold growth and rotting. Ten percent will require professional dehumidifiers to be ran for 1 – 2 weeks until the floor is dried, sanded, and refinished.
Also be sure that the moisture content is tested before replacing or sanding the gym floor. It's important to conduct tests in multiple areas as they can vary in different areas. The moisture content should stay between 7 and 9 percent to allow new rubber flooring to be installed securely.
If the water has completely damaged the floor, a similar flooring material of the same quality will be installed. Surely replacing the flooring is always more expensive than simple refinishing or patching and sanding. But you may be able to use the money from flood damage insurance to upgrade the gym flooring anyway so you won't have to pay it down the road. Just know that the insurance company will only pay for a similar flooring of the same quality.
If just a small area of the floor is damaged, flooring professionals will replace the damaged section and refinish the floor. These repairs are not nearly as expensive and will allow you the opportunity to redesign the floor layout or add a new logo to the floor. After the work is finished, you may not even notice the damage that took place.
Mondo are leaders in developing and installing sports flooring for many sports and activities
Contact Mondo
When it comes to rubber sports flooring repairs and replacement, Mondo offers innovative sports flooring products. If you're thinking about a new rubber floor to be installed for your commercial facility or school gym, our co-vulcanized multi-layer dual durometer provides a tough surface to withstand heavy weights and friction.
When working with Mondo, our experts have over 60 years of combined experience manufacturing equipment for sports facilities. With over nine manufacturing plants across Europe and China, we are proud to be leaders in developing and installing sports flooring for many different sports and activities.
For more information about Mondo rubber sport flooring systems, please contact Mondo and we will be happy to work with you.
Expert in emergency fire and Austin water restoration services, fire cleanup and Austin water damage cleanup, mold removal, as well as carpet and upholstery cleaning services. Contributor to several restoration and cleaning blogs.